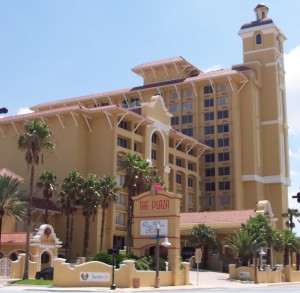 We get calls and internet inquiries all the time from people looking for a condo on the beach and they see oceanfront condos listed for sale in Daytona Beach for $40,000 – $60,000. So what's the catch? It is most likely a condotel.
Condotels are basically hotels or resorts in which the units are individually owned condos. Most people checking into the hotel or resort would never know that they are staying in a room that isn't owned by the resort. They often have a kitchenette in the unit and most are a studio or like the typical hotel room. Some may have a separate bedroom or even combined double units with multiple bedrooms.
The first question is usually, "Can I live there year round?" There were a few buildings that allowed you to homestead the unit and use a primary residence but the cities have tried to stop that. Condotels are better suited for someone looking to invest in a condo that they will use part of the year and rent out when they are not using the unit.
Some buildings like The Hawaiian Inn or Daytona Beach Resort allow you to manage your own unit while other buildings like The Plaza in Daytona Beach require all the units to be in their rental pool. If you have your unit in their rental pool where they do everything from management and booking, to cleaning and linens. They usually charge from 40-60% of the rental income for this service.
That may seem like a lot but if you are an out of area owner and you try to self manage, who will be meeting the guests to check in or check out? Who will wash the linens and clean the rooms? How will you handle booking and reservations? Who will hold the deposits and do the billing? There is a lot involved in short-term rental units.
Condotels do start in the $40,000 range and go up from there. Many units in the older buildings or units without a view are priced very well. Some condotels like in The Ocean Walk Resort or Hammock Beach club are in the $200,000 – $300,000 plus range.
Most people looking for a condo want a traditional condo. Prices for ocean front condos start at about $150,000 for a two bedroom condo in Ormond By The Sea where A1A runs along the ocean and the condos are actually across the street. For a direct oceanfront building that is located directly on the beach you are looking about $180,000. The newer luxury 3 bedroom condos start in the mid $300's and go up to the millions. Daytona Beach offers some very reasonable oceanfront condo options.
What about financing? Financing for condotels is very limited. When the market turned and the banks tightened up their guidelines, it was almost impossible to get financing. Now there are a few options but typically you need to put 40% to 50% down or pay cash.
I hope I was able to give you a little insight to the oceanfront condos that look too good to be true. So the truth is yes, you can get an oceanfront condo in Daytona Beach for $40,000 but it isn't what most people are truly looking for.
If you have any further questions about Daytona Beach Oceanfront Condos, contact The Dream Homes Team today.